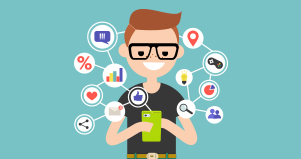 Tuesday, September 5th, 2017
Millennials' Financial Habits – An Insight
A 2015 global study by well-known social media professional network, LinkedIn and media agency MEC in partnership with research firm Ipsos had predicted that the future of the financial industry would largely depend upon the spending behaviour of the affluent millennial.  As per the survey findings, 68% were single credit card users at the very least, 52% took personal loans and 27% had a business loan given their entrepreneurial attitude. Clearly, India has seen a rise in debt related financial products, and debt is no longer considered a taboo for this young generation. Millennials talk about finance and everything else that matters to them online because their mind set is powered by technology and smart phones.
Millennials love to prioritise short-term spending over long term savings because they believe in instant gratification and memorable experiences, unlike their Gen X parents.  If you are a young millennial in your 20s and are making enough money through a steady job, it is likely that you are taking care of your own living cost, and also helping a family member. At the same time, you will also need to save for your next vacation in the short-term, and for your retirement in the longer term. You also need an emergency backup fund. In reality, millennials are so busy buying luxury items and paying rent or attending a friend's wedding that they rarely have the time to think about savings. Even if they were good at budgeting and planned to save, as per industry reports, their savings rate is low globally.
This techno-savvy group prefers FinTech digital financial products for every financial requirement be it to store money or to borrow for personal needs, or to repay debt, and to also save. Even for short-term personal needs, they will prefer lenders who can offer instant personal loan solutions that are backed by hi-tech/hi-touch experiences. Lenders, whether they are alternative lenders or banks will only lend to people they think can repay them back. Millennials give high weightage to experiences with their banks or financial institutions, and mobile banking forms an integral part of their relationships with banks or financial institutions. They whine about their experiences with traditional banks when borrowing small money for funding short-term vacations because of the delay in loan approvals. FinTech products such as CASHe are here to bridge this gap by providing instant personal cash loan to the salaried Gen Y group to meet their personal needs using the mobile phone app named CASHe.
Millennials are also drifting away from an ownership model to a socio-economic system that is built around the sharing of resources, which mean they would rather be part of a car pool or rent a cab than buying a car like the yesteryear Gen X. Even if they wanted to buy a house, the struggle is with the down-payment first, and then getting loan approvals from banks due to credit score issues. They mostly rent houses or live with their parents or opt for other modes of shared accommodation.
Do millennials have too little to invest because of many factors including their behaviour and attitudes that have influenced their existing spending pattern? And what does this mean for financial services brands? - How can financial institutions empower this progressive and positive demographic group? Research reveals that this group is hungry for financial information, and often end up crowdsourcing information when they need help with a financial situation, instead of listening to banks. Banks and Financial institutions will, therefore, need to come up with the right message that resonates with this group in order to educate and empower them into building a secured financial future. This generation is looking for personalised access to resources irrespective of the devices they are using. For example, they want to be able to read news on a financial topic across all devices. The key takeaway for financial institutions is to adopt a multi-platform strategy to help them learn and provide resources that appeal to the millennials' emotions.