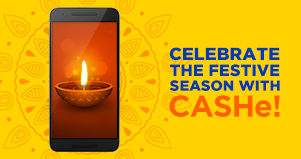 Friday, September 15th, 2017
Do you Need to Take a Festival Loan?
Featured in:
Is the festive season just round the corner, when you are worried by a cash crunch? A cash crunch is more common during a month-end because you would have spent most of your monthly salary by then. As a result, when festivities fall on the end of a month you are less likely to have surplus cash. Important festivals and holidays, therefore, demand a steady cash flow on a regular basis, regardless of their dates, for uninterrupted celebrations. If you weren't prudently saving for festival related expenses, a cash crunch could dampen your celebrations with family and friends. Festivals in India mean a whole lot of things culturally as well as socially. Festivals symbolize progress and growth. An inevitable part of a festival, which is festival shopping, requires a decent budget for buying gifts, shopping clothes, decorating homes and having gatherings. Shopping for a festival has since long been a status symbol for the Indian consumer. You and I do not want to be left behind. Are there alternative sources for funding your festival shopping expenses when you have fund shortage? The good news is that many traditional banks and alternative lenders offer short-term festival loans that are easy to get if you meet the eligibility criterion of the financial institution you approach. Festival loans are not only more economical than regular personal loans because of discounted interest rates, the documentation work is also less, and you do not need to mortgage any asset for availing a festival loan. Some of the key features of a festival loan are listed below: - The
festival loan
amount is usually between INR 5,000-50,000- Maximum tenure is 12 months - No foreclosure penalties, but you need to check the terms with the financial institution - The loan processing fee is usually 1% of the loan amount + applicable GST tax - Bank interest rates are usually between 13%-15% although lower interest rates can also be negotiated Banks offer lucrative discounts on short-term personal loans during the festive season to attract its customers. If you have decided to borrow from a bank, you need to have a good credit score, failing which a loan may be rejected to you. You also need the time for basic documentation work. If you need money real fast, CASHe can lend a helping hand to you by providing you with an instant festival loan credit. Short-term personal loans at CASHe are extremely customer friendly with affordable interest rates and do not require any paperwork or credit checks. The
CASHe mobile app
is a FinTech product from an alternative lender named Bhanix Finance and Investment Limited. Learn more about short-term personal loans from CASHe today, and celebrate your festival without any financial strain.