Have a Holi Party With CASHe BNPL Deals! – Infographic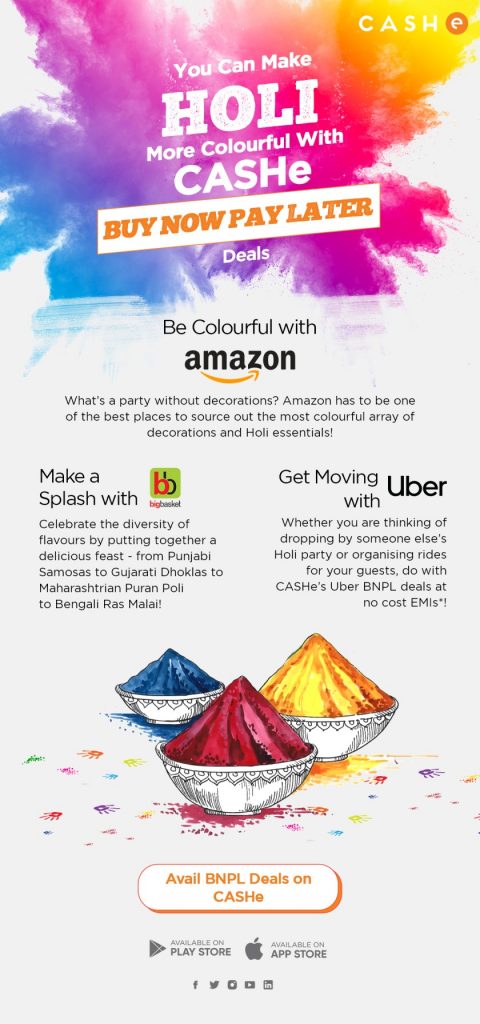 One of the most vibrant and colourful Indian festivals is here! It is time to make Holi 2022 an affair to remember by gathering your friends and family for a fun Holi party!
Organising a party can be an expensive affair but it can be carried out effortlessly if you are doing it with buy now pay later, especially when the deals are available at 0% interest. With the option of being able to pay for products and services in EMIs and on future dates, you can have a fun Holi party with your friends and family without having to worry too much about the expenses.
Making The Most of Different BNPL Deals For The Holi Party
Starting off with the most important purchases – the Holi party essentials. Amazon has a plethora of options available so you can sort out the decorations and any other Holi-centric items from Amazon.
A party is incomplete without some snacks to munch on. From raw ingredients to ready-to-fry treats, and sweet and savoury items, you can purchase all such requirements from Big Basket.
Sort out your travel and transportation plans with Uber. Whether it is travelling to other Holi parties or arranging transportation for your guests, you can do so with Uber.
FAQs
Is there a maximum limit for each of these merchants?
Yes, there is. The maximum limit for Amazon BNPL is Rs. 60,000 while the maximum limit for Uber BNPL and Big Basket BNPL is Rs. 10,000.
What is the validity of these gift BNPL deals?
Each of these BNPL deals is valid for up to 1 year.
What documents are required while applying for the BNPL deals?
You need to upload self-attested copies of the following essential documents – identity proof, address proof, income proof and a photograph of yourself.
Can the Amazon pay later gift voucher to be used across various transactions?
Yes, it can be utilised across multiple transactions, up to the decided limit.